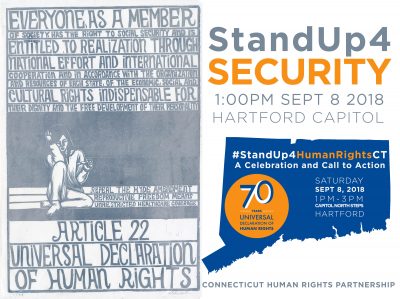 With nine days to go to our September 8 celebration and call to action on human rights, we focus today on Article 22, which asserts the right to social security in particular and to economic, social and cultural rights generally.
This final section of the Universal Declaration of Human Rights, Articles 22-27, was one of the controversial points during the framing of the UDHR. The Soviet and Chinese representatives from Communist countries asserted that socioeconomic rights were the most important. The other representatives believed in a more balanced approach, but also knew that the politicians in their countries might balk at too strong an assertion of economic rights, when the emphasis in European and American political traditions had been on civil-political rights.
Eleanor Roosevelt keep all nine members of the committee working to find consensus and compromise. Rene Cassin, a French judge and law professor who later won the Nobel Peace Prize for these efforts, conceived of the entire UDHR as a structure with four co-equal pillars, of which social, economic, and cultural rights are one. His framework is knows and Cassin's Portico, a visual image of which is posted here.
In the United States, the establishment of Social Security in the 1930s and Medicare in the 1960s have been crucial public benefits to ensure that elder citizens do not suffer a loss of basic dignity. These programs are not perfect, especially because they are in financial straits. Like all important initiatives for justice and the common good, they require citizens and leaders to exercise their responsibilities and sense of solidarity (as in the Preamble and Articles 28-30) to ensure that the implementation of supports for such rights are sustainable now and in the future.
—
Come #StandUp4HumanRightsCT at the State Capitol on September 8th!
Please #repost & click "GOING" on our Facebook event: https://www.facebook.com/events/1837109232994042/