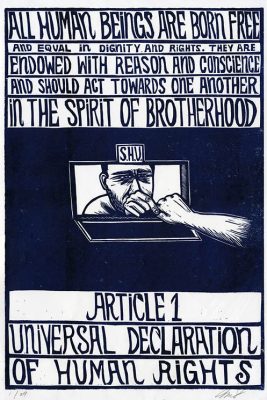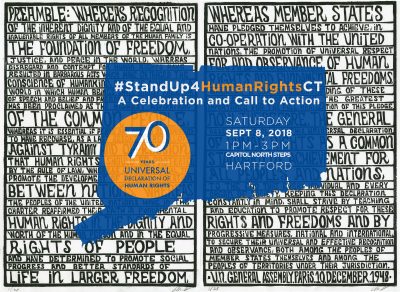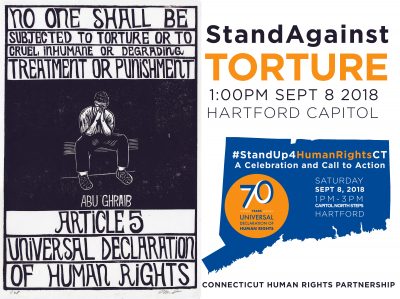 Stand Up 4 Human Rights CT: A Celebration & Call to Action
The Connecticut Human Rights Partnership and our cosponsors and allies invite all to join us as we kick off a state-wide recognition of the 70th Anniversary of the Universal Declaration of Human Rights for the rest of 2018. On September 8, on the steps of the State Capitol, speakers from across Connecticut will share perspectives on how human rights are being advanced in our communities and outline the work still to be done. We'll have uplifting music and spoken-word performances, as well as information on how you can continue the work in your own local community. Today, as we face some of the most daunting challenges to human dignity and justice, we can come together and reaffirm our commitment to building a culture of human rights here in Connecticut.
Social Media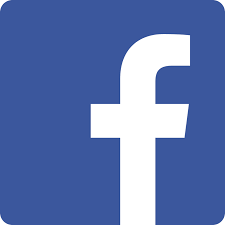 Check out our Facebook Page for event details, registration and day of live event streaming!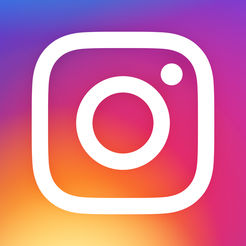 Follow @cthumanrightspartnership  on Instagram to check out photos and track the rally as it happens!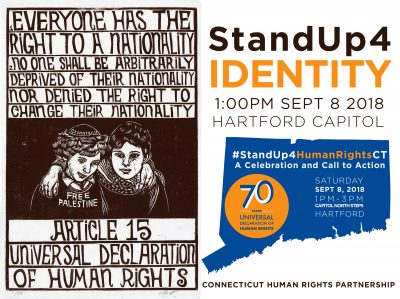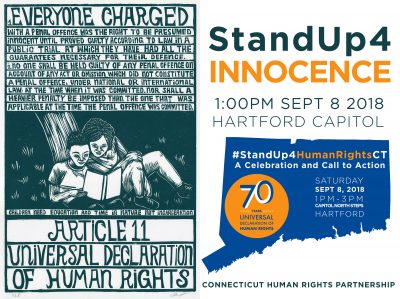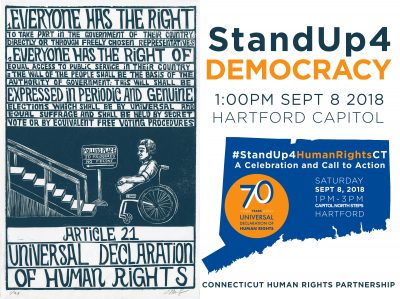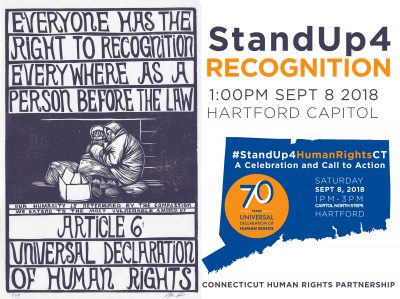 SPEAKERS
Dr. Saud Anwar
Mayor, South Windsor
Kate Farrar
Executive Director, Connecticut Women's Education and Legal Fund
Chris George
Executive Director, Integrated Refugee and Immigration Services
Tanya Hughes
Executive Director, Commission on Human Rights and Opportunities
Pastor AJ Johnson
Pastor, Urban Hope Refuge Church
Robin McHaelen
Executive Director, True Colors, Inc.
Chris Newell
Director of Education, Akomawt Educational Initiative
Tyler Paige
Manchester High School Class of 2018
Ryan Parker & Justis Lopez
Manchester Open Mic Movement
Pamela Selders
Co-Founder, Moral Monday CT
Chris Sparks & Todd Szwed
Human Rights Teachers, East Hartford High School
Anna Szekeres
Avon High School Class of 2019
Joseline Tlacomulco
Connecticut Students for a Dream
Jenna Westfall
March for Our Lives CT
...and more coming soon!
CO-SPONSORS
Anti-Defamation League CT Region
Albert Schweitzer Institute
Akomawt Educational Initiative
Artists for World Peace
Black Lives Matter New Haven
Calling All Brothers
Campus Compact of Southern New England
Center for Disability Rights
Center for Latino Progress
Charter Oak Cultural Center
Chispa
Code Blue
Collaborative Center for Justice
Commission on Human Rights & Opportunities
Connecticut AFL-CIO
Connecticut Council for Interreligious Understanding
Connecticut Education Association - Manchester
Connecticut Fund for the Environment
Connecticut Humanities
Connecticut TransAdvocacy Coalition
Connecticut Women's Education and Legal Fund
Fight for 15
Fixing Fathers, Inc.
Golden Door
Hartford Capital City Pride
Hartford Food Systems
Hersher Institute for Applied Ethics, Sacred Heart University
Human Rights Institute, UConn
Integrated Refugee & Immigrant Services
League of Women Voters of Connecticut
LOCAL in Northeastern CT
LOCAL in Southeastern CT
LOCAL in Central CT
NAACP Windham/Willimantic Chapter
National Conference for Community & Justice
The Neighbor Fund
Our Revolution CT Team
Peace Center of Connecticut
Quiet Corner Refugee Resettlement Project
Radical Advocates for Cross-Cultural Education
Thomas J. Dodd Research Center, UConn
UConn Hartford
Urban Hope Refuge Church
West Hartford Human Rights Commission
Women's March CT - We March On
---
Want to join us as a cosponsor? 
Send us an email
LOCATION
Connecticut State Capitol Building
210 Capitol Ave.
Hartford, CT 06106
TRANSIT
Attendees are encouraged to use transit and carpool options to minimize congestion and other environmental impacts.
CT Transit provides local bus service though out Hartford.  Several bus stops are within a short walk to the Capitol Building. Go to: www.cttransit.com for more in formation on routes and stops.
CTfastrak provides direct bus service to and from Waterbury, Cheshire, Southington, Bristol, Plainville, New Britain, Newington, West Hartford, Hartford and Manchester with routes that take advantage of the bus-only CTfastrak roadway. Go to: https://www.cttransit.com/services/ctfastrak for more information on routes and stops.
CT Rail's new Hartford Line provides trains daily between New Haven and Hartford (Union Station) with stops in Wallingford, Meriden and Berlin, and Springfield and Hartford with stops in Windsor Locks and Windsor.  Union Station is less than 1/2 mile from the Capitol building.  Go to: http://www.hartfordline.com/fares-schedules/ for more information on routes and stops.
Staged around Hartford are dock-less bicycles from Lime Bike which can be borrowed to speed you to the Capitol. You can use the LimeBike app to locate an available bike, ride it to your destination and leave it for the next rider. Go to: LimeBike for more information.
PARKING
On-street parking in downtown Hartford is FREE all day Saturday at parking meters or any spaces where signage indicates. Please read signs carefully.
Several government lots near the Capitol will also be open and free. See this interactive map and read signage carefully to avoid towing or fines.