Universal Declaration of Human Rights
The Universal Declaration of Human Rights is the omnipresent framework guiding our global community towards respecting the rights of all human beings.
Thanks to the Universal Declaration of Human Rights, and States' commitments to its principles, the dignity of millions has been uplifted, untold human suffering prevented and the foundations for a most just world have been laid. While its promise is yet to be fulfilled, the very fact that it has stood the test of time is testament to the enduring universality of its perennial values of equality, justice and human dignity.
To learn more about the Declaration and its importance towards promoting a more dignified world, please visit:
www.un.org/en/universal-declaration-human-rights/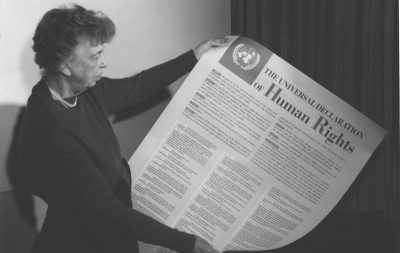 UDHR @ 70
This year is the 70th Anniversary of the United Nations General Assembly formally adopting the Universal Declaration of Human Rights. As such, UN Human Rights has begun a worldwide campaign to celebrate and highlight the importance the UDHR plays in the lives of global citizens everywhere.
The campaign has three core objectives: to promote, engage and reflect. The aim is to engage a broad base of audiences the world over; to help promote understanding of how the Universal Declaration empowers us all; and encourage further reflection on the ways that each of us can stand up for rights, every day.
The anniversary is a chance for the world to celebrate the gift of the Universal Declaration and to help reaffirm the enduring human rights principles and standards it has helped establish.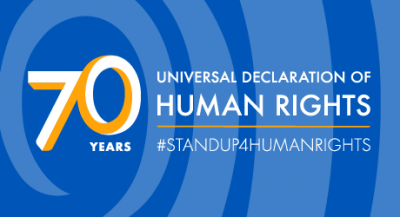 #StandUp4HumanRightsCT
We, as citizens and stakeholders in the state of Connecticut, join together with allies and advocates around the world to affirm our commitment to UDHR @70 through our own #StandUp4HumanRightsCT campaign.
Beginning with a kickoff rally on September 8th, 2018 in Hartford, CT, the #StandUp4HumanRightsCT campaign will consist of a series of events across partner K-12 schools, higher education institutions, community & advocacy organizations, all focused on celebrating the importance and pivotal role the UDHR plays in shaping Human Rights locally, right here in our Connecticut backyard.
All events and news will be posted to the homepage to this site to update all on what is happening...
Please follow #standup4humanrightsct on Facebook and Instagram to check updates on events and incredible ongoing work