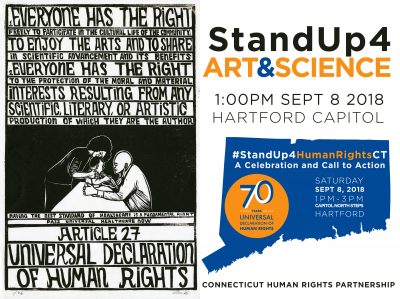 "Everyone has the right freely to participate in the cultural life of the community, to enjoy the arts and to share in scientific advancement and its benefits."
On Day 14 of our countdown to the #StandUp4HumanRightsCT kickoff, we commemorate Article 27.
It is our basic right as human beings to break away from the routine of our lives and enjoy the richness of cultural life around us. Individuals, too many to count,  around the world have stepped up, used their talents and passions to create some of the most incredible facets of cultural expression. Museums, art exhibits, concerts, performances of all kinds are just some of the venue offered for our exploration and appreciation of that "cultural expression" we all so desire. Despite being widely praised and respected, these individuals and venues can also receive enormous criticism and even suppression by certain powers for perceived attacks against decency, morality or "what's best for the public." The right to participate in the cultural life of the community can also intersect with other human rights violations. Take for example the story of  Syrian artist Thaier Halel, barred from his own art exhibit surrounding visa issues:

https://www.independent.co.uk/arts-entertainment/art/news/barred-from-his-own-uk-exhibition-syrian-artist-denied-visa-9990118.html
This article not only guarantees and strives to protect our collective right to enjoy cultural life, but also enjoy the benefits of scientific advancement. With the explosion of social media and new technologies, our lives are connected in ways far more advanced than they were ten years ago. And still, pivotal questions remain around the right being fully secured. Should social media outlets limit freedoms of expression in order to protect for the security and common good of its participants? Do new advances in technology that take an ever increasingly central role in our lives leave us with a blindspot to the suppression of our basic rights? These are questions we must grapple with if we are to FULLY recognize Article 27 in our daily lives.
—-
Please #repost and hit "GOING"  on our Facebook Event Page for September 8th

Join us as we #StandUp4HumanRights as a statewide community!
---