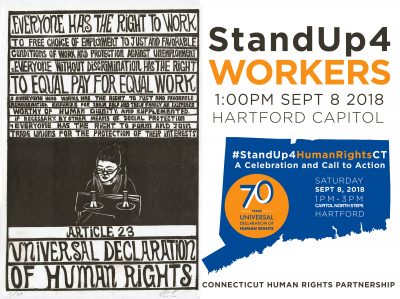 "Everyone has the right to work, to free choice of employment, to just and favourable conditions of work and to protection against unemployment."
Today we celebrate Article 23. The right to work remains a pivotal yet undervalued right that all human beings, no matter who they, are deserving of. Any person is deserving to gain opportunity of employment that he or she seeks. Still we recognize that this universal right is perceived, protected and promoted in varied ways across numerous contexts across the world. In the United States in particular, certain states, legislatures and powers of authority have attempted to co-opt the right to work in an effort to discriminate and marginalize certain workers or constituents. A Washington Post article from April 2018 comments on this exact dilemma:
Stripping workers of basic protections undermines the dignity, respect and rights deserving of any person in employment anywhere. It is also a dangerous precedent to set in any national system.
In addition, Article 23 directly addresses the right for persons to form and join a union in order to protect his or her interests. Unions, despite consistent backlash and rhetoric surrounding their purpose, provide both needed security when it comes to protecting workers individual employment rights, and community and fellowship for members. The Connecticut American Federation of Labor and Congress of Industrial Organizations (AFL-CIO) is one such organization that strives to protect and represent the interests of working people across our great state. CT AFL-CIO and its affiliates strive to eliminate all forms of work-place discrimination, and have worked tirelessly to be a voice of change in Connecticut.
We are proud to have CT AFL-CIO co-sponsor the

#StandUp4HumanRightsCT

kickoff on September 8th, and commit with them to stand up to defend worker's rights everywhere.
Please visit our Facebook Page and Instagram for more details and to follow our countdown!
---