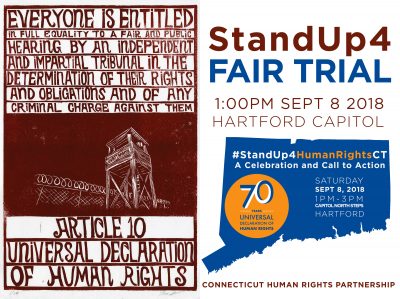 "Everyone is entitled in full equality to a fair and public hearing by an independent and impartial tribunal, in the determination of his rights and obligations and of any criminal charge against him or her"
As our countdown continues, today we celebrate Article 10 of the UDHR. The right to a fair, objective trial or hearing is one of the hallmarks of any democratic system of justice. We know that this right is not always ensured, as challenges and limitations of said right take place consistently across the world. Take for example the Philippines. Under the Duterte government, persons suspected of the most minor to most extreme forms of drug trafficking have been harassed, beaten, jailed and even executed, without even the prospect of a fair, impartial hearing to determine their fate. The International Criminal Court, a body setup to fulfill this right coincidentally, as recently as February 2018 initiated a lengthy investigation and report into this maligning of the rule of law by the Duterte government:
ICC Launches Crimes Against Humanity Into Duterte's War on Drugs
Moreover, in our country, as we continue to deal with the fallout of a policy that has separated parents from their families. Children as young as 6 months have been hauled into so called "immigration courts" without the know how, language skills or proper legal representation to defend themselves, and whose fate is in the hands of one judge.
And yet, in many cases both here and abroad, rule of law and this fundamental right have been supported and secured. No matter what restrictions, limitations, political attacks or legislative actions are put forward, it is incredibly important for every citizen, here in Connecticut, across our nation and our world, to stand up and raise their voices towards the protection of Article 10. Injustice anywhere is a threat to justice everywhere.
Please register for #StandUp4HumanRightsCT by hit GOING on our Facebook event page
Spread the word and join with us on September 8th in Hartford!
---