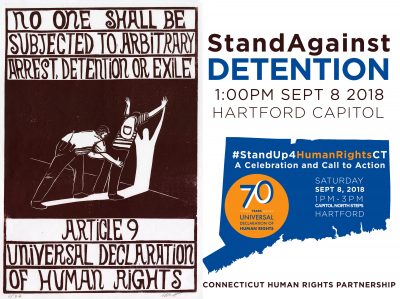 Tomorrow we formally kickoff the #StandUp4HumanRightsCT campaign on the steps of the Capitol starting at 1 pm. Today, we celebrate Article, 9, which states: "No one shall be subjected to arbitrary arrest, detention or exile."
Around the globe in various contexts, people of all genders, sexual orientations, religious, political or socio-cultural affiliation have been arrested and detained for reasons directly related to these above associations. We know this can be discriminatory and is reprehensible, and goes against basic sense of decency and many times rule of law. Still, this happens repeatedly everyday. The act of "disappearing", mysterious and suspect vanishing of individuals by powers or authority bodies, many times never seen again. Take for example, this story published by Human Rights Watch, speaking about this cruel and systemic process of secret detention and disappearing ongoing in Bangladesh:
https://www.hrw.org/…/bangladesh-investigate-fate-disappear…
As a human rights community, each of us have a responsibility to call attention to this arbitrary and capricious breach of basic rights, and ensure that if arrest or detention is called for, it is with proper evidence, appropriate cause and justification, not based on subjective and/or discriminatory motivations.
With #StandUp4HumanRightsCT kickoff tomorrow, we at the CT Human Rights Partnership would like to thank everyone who has followed us and reposted/shared this important event. 
We look forward to what tomorrow brings, and are empowered by what #StandUp4HumanRightsCT can mean for our state and national communities.
---