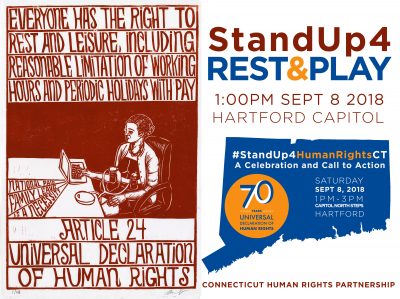 As you head off to your Labor Day weekend plans, it's a good time to realize that even when you have a cookout or head to the beach on Monday, you are exercising one of your human rights! Article 24 of the Universal Declaration holds, "Everyone has the right to rest and leisure, including reasonable limitation of working hours and periodic holidays with pay." It's a human right because it protects a crucial part of human well-being. Without enough rest, we suffer. Without leisure, play, and relaxation, we don't fully flourish. Human rights are interlocking, so without this right, one can't fully achieve other rights, such has maintaining health, keeping employment, and enjoying family and social relationships.
If you get Monday off as a paid holiday, that's great. If your job provides paid holidays, paid sick days, and sufficient time off so you can take care of your health and your family, that's wonderful. It matters to assert this human right to rest and holidays, because not everyone has it. This is particularly true if you make less money.
"The poorer you are, the less time you have. The Economic Policy Institute found in August 2017 that only 41% of workers who earn wages in the bottom 10th percentile have paid time off and paid vacations, compared to over 92% of workers with wages in the top 10th percentile," reported Time Magazine on 9-3-2017.
A number of social-economic rights intersect on this matter. Workers who are in a union (which is itself a right) have more protections for time off and family leave, but union membership in the U.S. has declined under continual political attack.
Public policy can fill some gaps. The Family and Medical Leave Act of 1993 was a great step forward in ensuring this right in the U.S. But the right of up to 12 weeks of unpaid leave doesn't apply to small businesses and doesn't match the more robust benefits in other developed nations.
And people have to make use of the rights they do enjoy, or they forget why it matters. Many Americans don't take advantage of all the vacation that they have a right to. It's therefore important on this holiday weekend to relax, enjoy your friends and family, appreciate the rights you have and remember those who have less. Then make plans to come to Hartford next weekend!
—
Come #StandUp4HumanRightsCT at the State Capitol on September 8th!
Please #repost & click "GOING" on our Facebook event: https://www.facebook.com/events/1837109232994042/
Check out our full blog at: standup4humanrightsct.org/blog
---