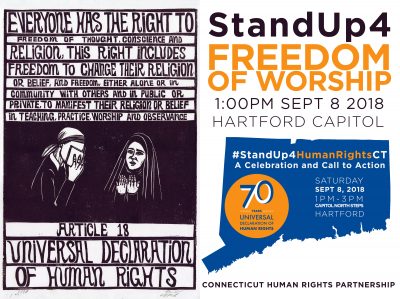 On Day 19 remaining in our countdown to the #StandUp4HumanRightsCT rally, our focus is on Article 18 of the UDHR, which affirms that everyone has the right to freedom of thought, conscience and religion.
Religious freedom has unfortunately been greatly encroached upon in many places around the globe, in ways that are sometimes deadly. Sunni and Shia Muslims have been bombed in their mosques in Iraq; Rohingya Muslims have been subject to nothing less than genocide in Myanmar; Christians have been killed in various locations throughout the Middle East and Africa; member of the Dahlit class and those who don't conform to Hindu nationalism have been beaten by radicals in India. Here in the United States, anti-Jewish graffiti still appears, and we are one year away from an explicitly anti-Semitic rally in Charlottesville (encouragingly, the anniversary rally in D.C. was a dud.)
The list goes on. No matter what your religion or lack of one, or you worldview, somewhere in the world those who share your views are unsafe precisely because of those views. So now, as much as ever, we must reaffirm the right to freedom of belief, unbelief, worship, and lifestyle–even of those beliefs systems that one personally finds distasteful, as long as the others are not impinging on the rights of others and of public safety. It's essential for every nation to enshrine the right of religious liberty and conscience and to take proactive steps to protect minority beliefs from encroachments even in civil society. As the New York Times recently editorialized (https://www.nytimes.com/…/trump-pence-religious-freedom-eva…), this right is important, and it applied to everyone, not just to favored groups of the politicians currently in power.
Many religious communities, religious leaders, interfaith groups, and religious charities do tremendous work to advance human rights–not simply the right to religious freedom, but all human rights. That's why religiously oriented organizations are becoming cosponsors of the StandUp4HumanRightsCT rally on September 8. See our list of cosponsors here (https://cthumanrightspartnership.org/events/#).
—
Follow us on Facebook and Instagram and repost with #StandUp4HumanRightsCT. We also hope to see you on September 8!